Conrad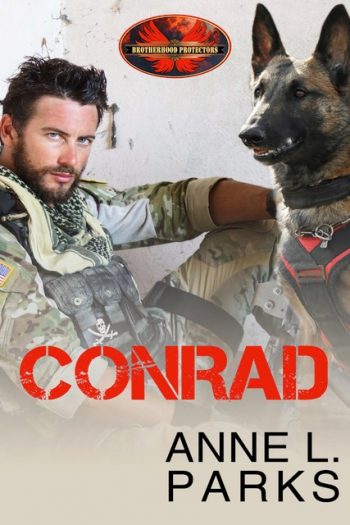 Delta Team K-9 handler Conrad Matthews (and his dog, George) are the first responders into perilous operations—until a terrorist's bullet shatters his entire world. His career destroyed, his dog lost, and the beautiful doctor who saved his life out of reach, Conrad vows to reclaim the life he's lost. First on his agenda: locating his four-legged best friend.
Julie "Doc" Sutton returns from her deployment in Syria as an Army Reserve physician, determined to rebuild her medical practice, her life, and her broken heart. Looking to fill a solitary void, she adopts a retired military service dog.
When Conrad learns George is being fostered by the Brotherhood Protectors, he travels to Eagle Rock, Montana—and comes face to face with the woman who still owns his heart. But Doc's world is in chaos from lethal threats against her life. With her would-be assassin closer than ever, Conrad vows to protect her—even if it costs him his life.