Rescued Box Set: Brotherhood Protectors World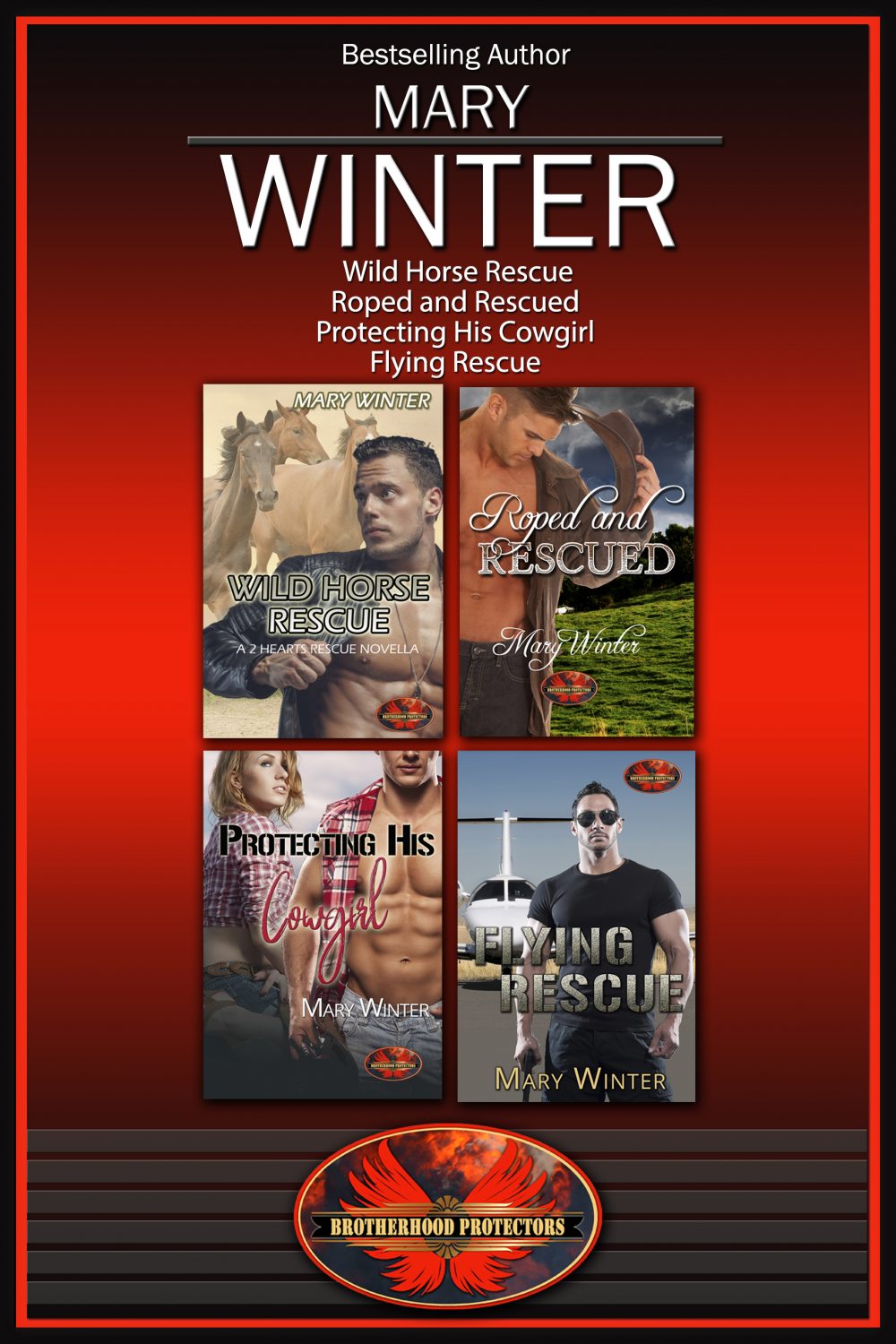 Wild Horse Rescue
After her friends at the 2 Hearts Rescue allowed her to stay with them after a bad breakup, acclaimed wildlife photographer, Erika Alberts, eagerly went to the Crazy Mountains in Montana to photograph wild horses for their fundraising calendar. It doesn't hurt that the last time she was there, she spent a week in the arms of Logan Ryder, a sexy Airman who made all her fantasies come true. This visit isn't adorable foals and beautiful sunrises, because her camp has been sabotaged and things just aren't adding up. She's afraid her ex is back and he'll stop her work at any cost.
Logan "Mustang" Ryder knows Erika won't be happy if she learns her friends hired him to keep an eye on her. He's the perfect member of Brotherhood Protectors to take the job. Not only is he a former ParaRescue with the Air Force Special Ops, but their motto "that others may live" is more than a duty, it's a way of life. He remembered Erika from a hot week they'd spent while he'd been on leave a few years ago, and he's wanted her ever since. It's his job to keep her safe from a crazy ex-boyfriend and to convince her that he's ready to settle down—with her.
Roped and Rescued
Logan's younger sister faces mysterious cattle mutilations, and her big brother isn't the only one who fears Jenny could be next. Caid "Domino" Janda hires on with the Brotherhood Protectors to do just that. When the evidence points to an ex-boyfriend selling the cattle mutilation pictures as fake UFO evidence and shots are fired, neither he nor Jenny can deny that she's in danger. They also can't deny the heat between them. Caid walked away once. He won't make the same mistake twice.
Jenny sent Caid packing years ago when he and Logan had been home on leave, knowing she couldn't love a man who is in danger. But now that he's here, and in her arms, and in spite of his work with the Brotherhood Protectors, she's not sure she can let him go.
But first, she has cattle to protect and a ranch to run.
Protecting His Cowgirl
Shelby Salwell tries not to stress over a few lost steers. Sure she can't afford the financial hit, but she'd deal. Until her best friend convinces her to hire the Brotherhood Protectors to get to the bottom of the thefts. She just hopes whoever they send doesn't find out about what she does when she isn't waitressing, or the terrible events she's tried so hard to forget. Some secrets need to remain hidden because some wounds may never heal.
Greer "Bull" Gorsch has wanted the sexy redheaded waitress at the café, so he takes the assignment to find out who is behind the cattle thefts at Shelby's ranch. He doesn't count on a fearful young boy to bring up memories he thought long buried or the reason why the young man is on her property. Suddenly he's dealing with more than an ordinary cattle theft and in spite of his best intentions, he's falling in love with his assignment.
Flying Rescue
No-nonsense private pilot CalliAnne "Cali" Santiago liked flying alone and never being tied down to one person or place. Other than the occasional turbulence, she'd never had a problem and her clients loved her. Until the last one was met by the Feds in Vegas and arrested on numerous charges. Now, someone is sabotaging her plane and working hard to ensure Cali will never fly again and she fears it's coming from within her employer.
Bolton "Wings" Jeffries thinks hiring on with the Brotherhood Protectors will allow him to continue living the motto—so that others may live—in spite of his PTSD and lingering injuries. He also has a fear of flying he can't tell anyone about because his first mission is a sexy pilot in serious danger. Can he focus on his mission and overcome his fears to keep her safe?