Texas Duet: Brotherhood Protectors World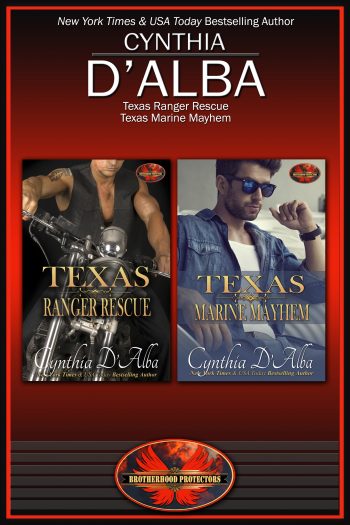 Texas Ranger Rescue
"Hell no." That's what retired Army Ranger Chase Adams should have said when he was asked to do a favor for a friend. "It'll be easy," his friend had said. "No danger at all."
After his run-in with an IED in Afghanistan leaves Chase Adams badly scarred, he comes home and takes a job that will use his brain and computer skills instead of his brawn. When his boss's wife asks for a favor, how can he say no? So he's off to Texas to help his favorite audiobook narrator with her latest project, the woman whose sultry voice got him through months of painful rehab. No bodyguard duties involved, or so he was told.
After an accident twenty years ago left Fiona Samuels legally blind, she has found critical and financial success as an audiobook voice actress. When her producer/audio engineer retires unexpectedly, her friends send a retired Army Ranger/computer whiz to help.
Long days of work become long nights of attraction. Chase never thought he'd find a woman who would see past the scars to the man beneath. He prays he will be there to protect her from the enemy they can't see.
Texas Marine Mayhem
The Marines. The Few. The Proud. The toughest of badasses. And a Marine never, ever cries, even if she wants to.
Vanessa Britt loves her job with Brotherhood Protectors until she gets her next assignment…guarding her ex-husband, or as she thinks of him, that dirty, rat-bastard who broke her spirit and her heart. She has never turned down an assignment, not in the Marines nor Brotherhood Protectors, but protecting her ex might be harder than being a Marine.
Bestselling author Craig Devlin has money, prestige and a seriously deranged stalker who wants him dead. When the love of his life shows up as his personal bodyguard, he decides to seduce her back into his life and his bed.
Once dead bodies start turning up, Craig and Vanessa must join forces to keep him from being dead body number three.