Texas Marine Mayhem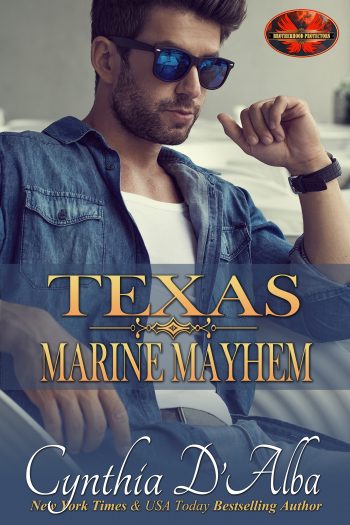 The Marines. The Few. The Proud. The toughest badasses around. And a Marine never, ever cries, even if she wants to.
Ten years divorced, one year out from service, Vanessa Britt enjoys her job with Brotherhood Protectors. Like her Marine Corps days, her bodyguard work involves long hours, a quick brain and guns, even if she rarely shoots anyone. That could change with her next assignment…Guarding her ex-husband, or as she thinks of him, that dirty, rat-bastard who broke her spirit and her heart.
Craig Devlin lives a blessed life, with a plum teaching assignment and a writing career that skyrocketed with his debut release. When bodily threats arrive, what is there to do but get the best bodyguard his money can buy? Taken aback by the assignment of Vanessa Britt to the job, he decides to take advantage of the situation and get his wife back in his life and in his bed. Who could blame him?
His stalker, for one. The one who wants him dead, preferably sooner than later.
When dead bodies start turning up, Craig and Vanessa have to work together to keep him from being dead body number three.