Brotherhood Protectors & Special Forces Box Set: Brotherhood Protectors World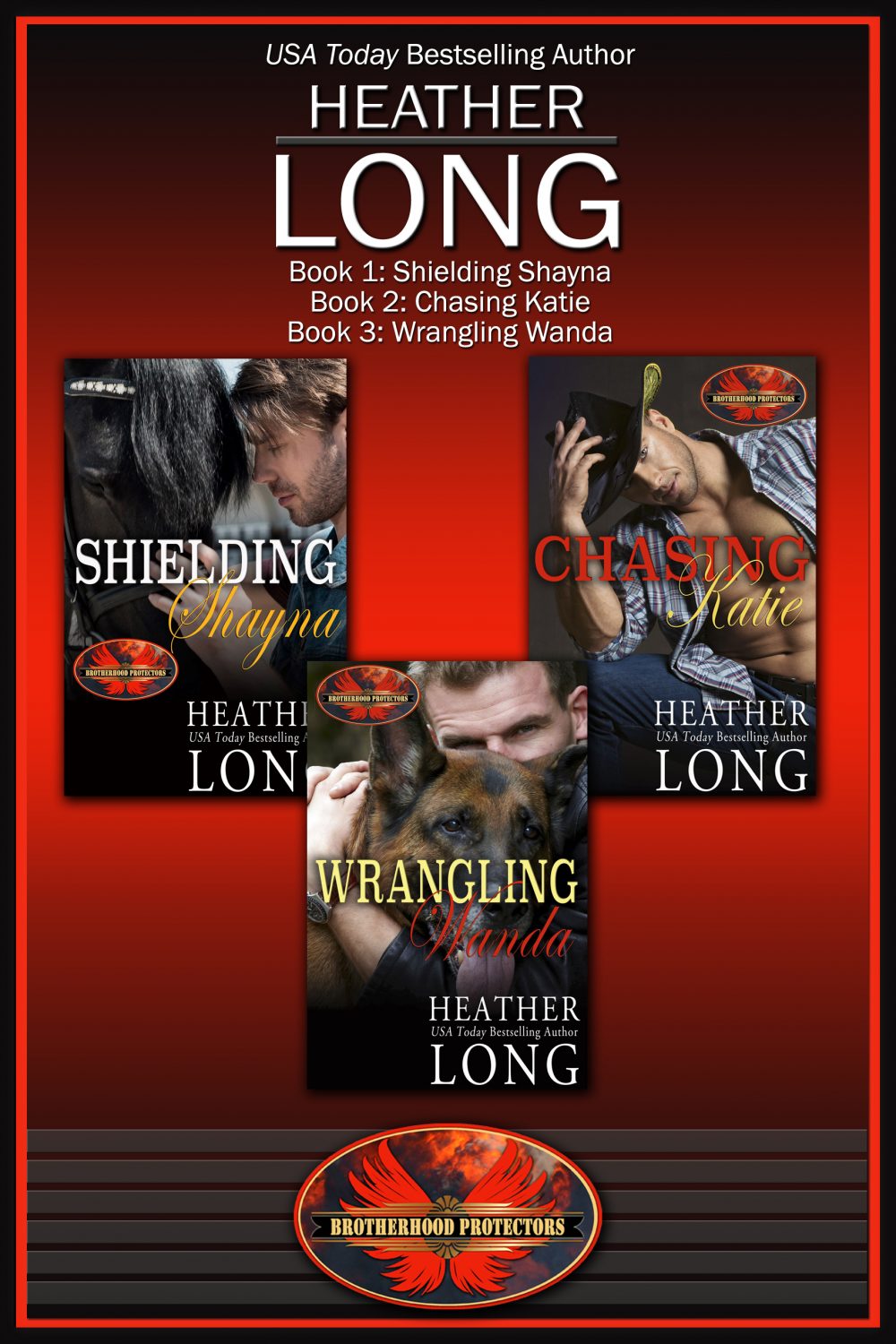 Shielding Shayna
Honor comes in all sizes.
Shayna Morgan has been a little bit of everything in her life—a daughter, a niece, a sailor, an investigator, and homeless. Nerve damage has left her with only partial feeling on her right side, and pain threatened to cripple her. Family pulled her home from where she slept in her car outside of DC, but it was the men and women of the Brotherhood Protectors who inspired her and gave her a purpose. She may not be able to fire a gun with any accuracy, but her new project fulfills her in so many other ways—helping other female vets just like her. It's all hard, honest work and good sweat until a shadowy threat takes aim at her ranch.
Purpose comes in all shapes.
Fergus "Oddjob" Roper went into the Air Force at 18 and left the SEALs when he was 33. After 15 years of service, two wars, multiple deployments and 3 degrees, he's looking for his next mission. After a year in Texas working with a horse trainer specializing in equine support animals, he's heading to Montana to visit with old friends. He came for the beer, and stayed for the women…one woman in particular. Oddjob doesn't mind mucking stalls, or helping out on the project—but what he wants is to shield the woman who saved his life, even if she doesn't know it.
Danger doesn't always take a direct approach, but Oddjob plans to have Shayna's back as she gets ready to tangle with a whole new kind of enemy.
Chasing Katie
This SEAL is on a mission…
Six weeks after burying his sister and accepting the career ending injury to his hearing, Liam "Angel" Knight begins the hunt for the a witness to the devastating event that shredded his life. His only clue? The purse he was found holding. But he isn't the only one looking for her…
This woman needs to hide…
Determined to keep her head down, Katherine "Katie" Hennessy hides on her family ranch. When a man arrives, seemingly looking for work, Katie recognizes him as the person who saved her life on that dark, horrible day. Guilt and terror eat her up inside, but Liam's presence is strangely comforting—he seems to know what she is hiding, and his strength buoys her. Then he tells her he needs her to come back to New York with him, to identify the bombers.
The truth could cost her everything.
Katie holds herself accountable, and the weight of the lie threatens to cripple her. If she tells the truth, it might set her free—and cost her everything in the same breath. Then the attacks begin, and Liam refuses to leave her side. The man will risk everything for her—can she do any less?
Wrangling Wanda
No one taught him how to disarm his heart…
Clayton "Brick" Wall specialized in explosive ordinance removal, but a near miss, which almost cost his team their lives, left his nerves shot and his spirit a little broken. Even with his trusted buddy Hondo at his side, medical discharge feels like just another test he didn't study for—what the hell is civilian life anyway? A friend sends him to Montana to heal and the Brotherhood Protectors give him a place, and a purpose.
No one taught her to stay over the safety net…
Ex-CIA asset, Wanda Aiken is working overtime to keep her grandfather's Merry Circus afloat. Coming back had never been a part of the plan, but she's burnt on operations and family is family. When a series of accidents threaten to sideline the whole operation, she's torn between going old school, and throwing in the towel.
No one taught them how to not go it alone…
Sent to protect Wanda, Brick's not prepared for the stubborn, infuriating woman determined to do it her way. All he needs is one foot to get in the center ring. Fortunately Hondo has four paws and Wanda's charmed by him.