Falling For Her Box Set: Brotherhood Protectors World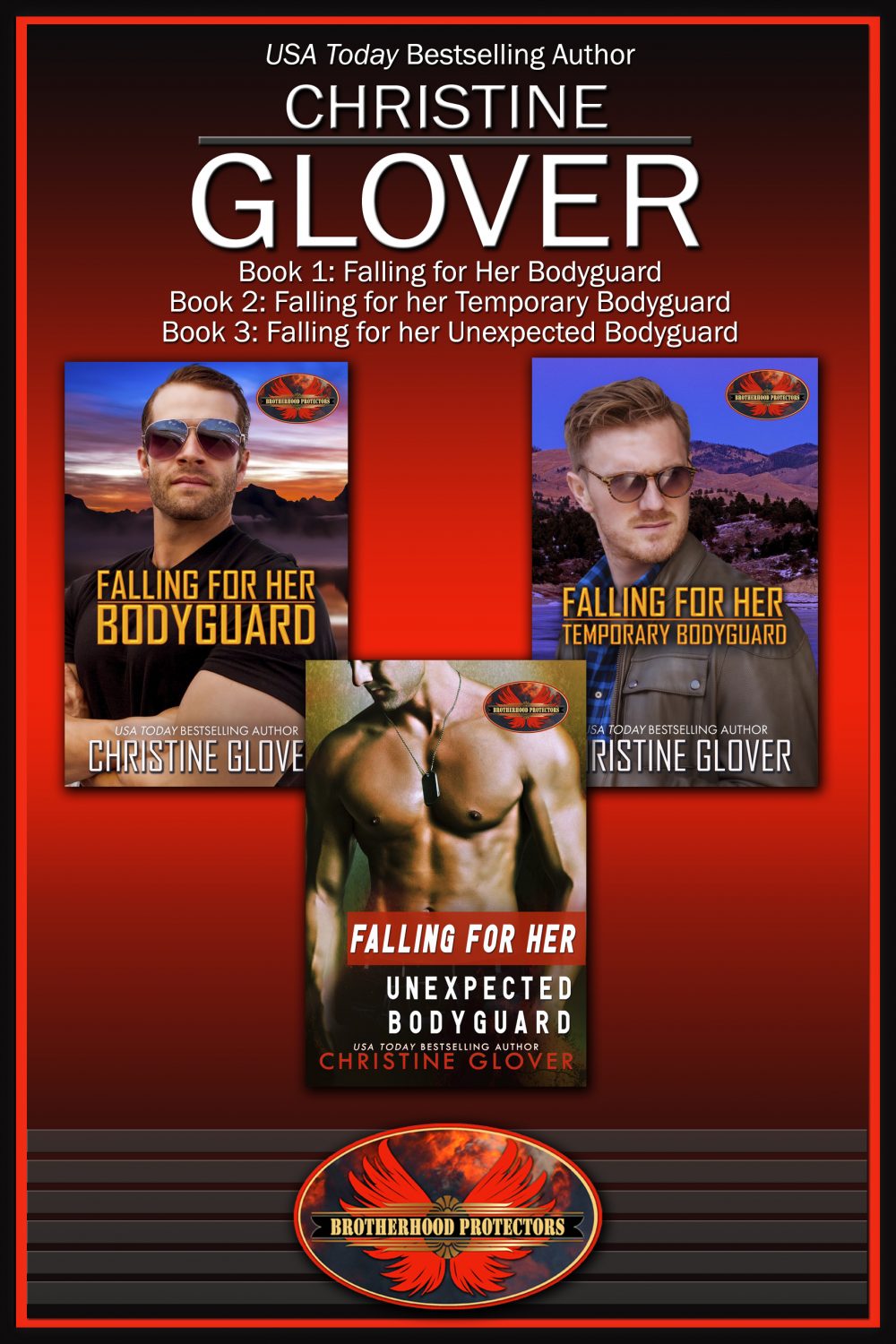 Falling For Her Bodyguard
After he's medically discharged from the Marines, ex-sniper Ethan Walker joins the Brotherhood Protectors as an elite bodyguard. Returning to Montana forces him to face his troubled past… and to make matters worse, his first client is a sexy, gorgeous actress who's way out of his league.
Delaney Lawson returns to her hometown to catch up and have fun with her girlfriends. Everything changes when she almost dies in a car accident and discovers it was definitely not accidental. For her safety, she hires Ethan… a muscular, powerful, hot bodyguard who watches her every move. But he's doing more than keeping her safe from the stalker's escalating threats—he's sparking all kinds of naughty thoughts she yearns to act on. Unfortunately, he's determined to keep his hands off her.
Despite their attempts to maintain a professional distance, heat flares between them and their sexual chemistry spirals into an intense connection. But when the stalker's threats against Delaney escalate, Delaney and Ethan must choose between saving themselves… or saving each other.
Falling For Her Temporary Bodyguard
Navy SEAL Jacob Lawson returns to Montana to receive physical therapy for a bum shoulder that might permanently put him out of commission. When his sexy physical therapist is threatened by a dangerous criminal, he volunteers to guard her as a favor to the Brotherhood Protectors' leader. Jacob's attracted to her, but he won't take advantage of the situation. He won't touch her… though he wants to do that and so much more.
Claire Murray once put a madman away with her testimony against him. Now he's free and she's terrified he'll follow through on his threats against her. The Brotherhood Protectors are a man short, so her muscular, powerful patient offers to fill in. She accepts his help only if he'll let her treat him for free.
Soon spending her days and nights with this hot protector ignites tantalizing fantasies she craves for him to fulfill.
Unfortunately, Jacob's keeping his hands to himself… that is until she realizes the attraction is mutual during a sizzling after-hours physical therapy session. And though she usually doesn't make the first move, Claire dares her gorgeous temporary bodyguard to act on their desire.
Falling For Her Unexpected Bodyguard
To escape her ex-fiancé, writer Sloane Bishop accepts a retreat at her bestie's house in Montana. What she didn't count on was sharing the space with her friend's smoking hot brother, Ben. Even worse, her ex-fiancé is stalking her, but the special forces Marine who's making her tingle in all the right ways makes her another offer she'd be crazy to refuse.
Ben Lawson offers to protect Sloane as a favor to his sister and to distract himself from the military investigation into a botched mission overseas. Not only did he lose his unit, he's sidelined until the outcome clears his name. He's determined to ignore the heat simmering between them… they're only together for a temporary amount of time and he's got nothing to offer her.