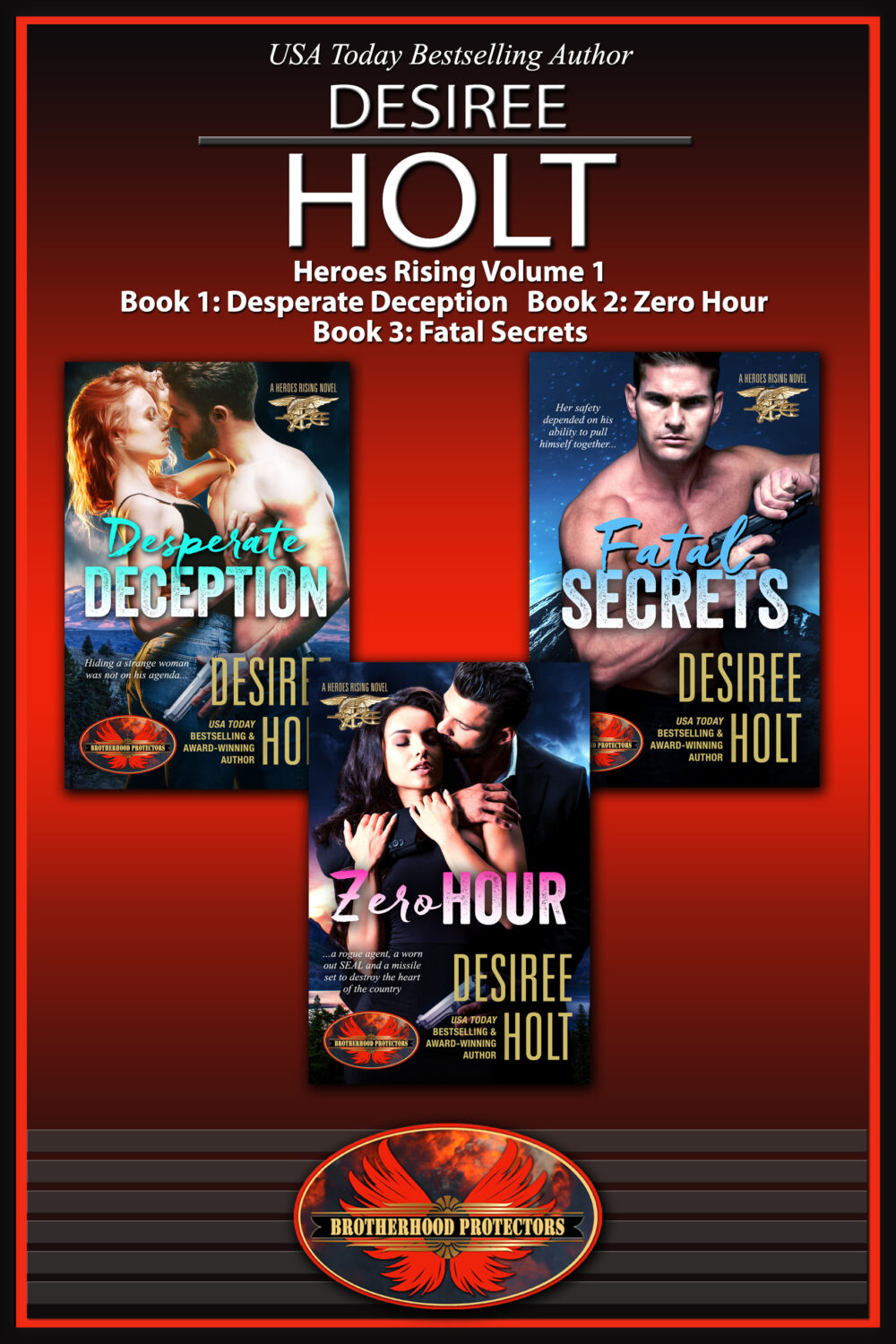 Get the first 3 books in Desiree Holt's Heroes Rising series all in one place!
DESPERATE DECEPTION
She'd only be safe if she got away…
Lainie Taggert needed to break away from her abusive relationship before it killed her, but Sonny Fitzgerald had all the keys to controlling her. Until she landed in the hospital with bruises and broken bones. And her friend, Drea Halstead, convinced her they had to spirit her away.
His life was in limbo…
Zane Halstead was rootless after three tours with the SEALs, medically discharged and not sure what to do with himself. When Sheriff Alex Rossi in Montana reached out to him with an offer to join his staff, he thought, what the hell? A house came with it along with two horses two horses he could work with. But then his sister pleaded with him to take a battered woman with him and keep her safe. How could he say no?
But the best laid plans and all that…
They never expected to fall for each other, Zane with his determination to stay single and Lainie with her nightmares and a vicious bully after her. And a rich one at that. But chemistry and emotions have their own plans, and when Zane gets word Lainie's ex is on her trail, he realizes he'll do anything to keep her safe…and for himself. With the help of Sheriff Alex Rossi, he is ready to take on the enemy for his woman.
ZERO HOUR
Teresa Fordice didn't want to go rogue but…
Arms manufacturer Reed Morgan's secret money man is dead and wild rumors of a dangerous plot are floating. Tasked with finding out what it is, ATFE agent Teresa Fordice must flee for her life. She ignores the order to come in from the field, instead she runs to Montana and the place where Morgan's secret plan is being hatched. But finding Jesse Donovan there, the man who walked out of her life, complicates things even more.
He might have left the SEALs but the memories of battle still haunt him…
The recurring nightmares made Jesse Donovan walk away from the best woman he ever met but now Fate has thrown them together and he has a chance to redeem himself. Can he get past the memories to help her on her mission to take down a man who may be plotting against the country?
Zero Hour…
What is it? When is it? What is Reed Morgan planning? Can Terry and Jesse find out in time and can they stop him? And what will happen with them after that? Can he walk away again? Will she let him?
FATAL SECRETS
Ten years later and the murderer of Zoe's friend has still not been caught. But now the reporter, with a contract to write a true crime book about it, is turning over every rock she can. But someone wants to frighten her off, adding to her stress level. On a rainy night, after some long days of research and interviews, a cold drink in a roadside bar eases the pressure, along with the very sexy, war-weary ex-SEAL whose bed she falls into. Zoe's not given to one-night stands but, for the moment, this guy is just what she needs.
Bitter at being medically discharged, still haunted by nightmares of the last mission, Sean Patterson has finally accepted his cousin Hank's invite to check out Montana. He's got his choice of Brotherhood Protectors or joining the staff of the new sheriff, either of which could be the turning point in his life that he needs. Either way, when he agrees to act as bodyguard for Sadie Patterson's friend, Zoe Young, he is stunned when he's face to face with the woman with whom he shared the best night of sex ever.
Together twenty-four-seven, the emotional connection between them explodes along with the increased danger. When they finally uncover the answers, they are shocked to learn who the killers are but will Zoe survive a last attempt on her life so she and Sean can explore a life together?