Ranger – Rainhorse Box Set: Brotherhood Protectors World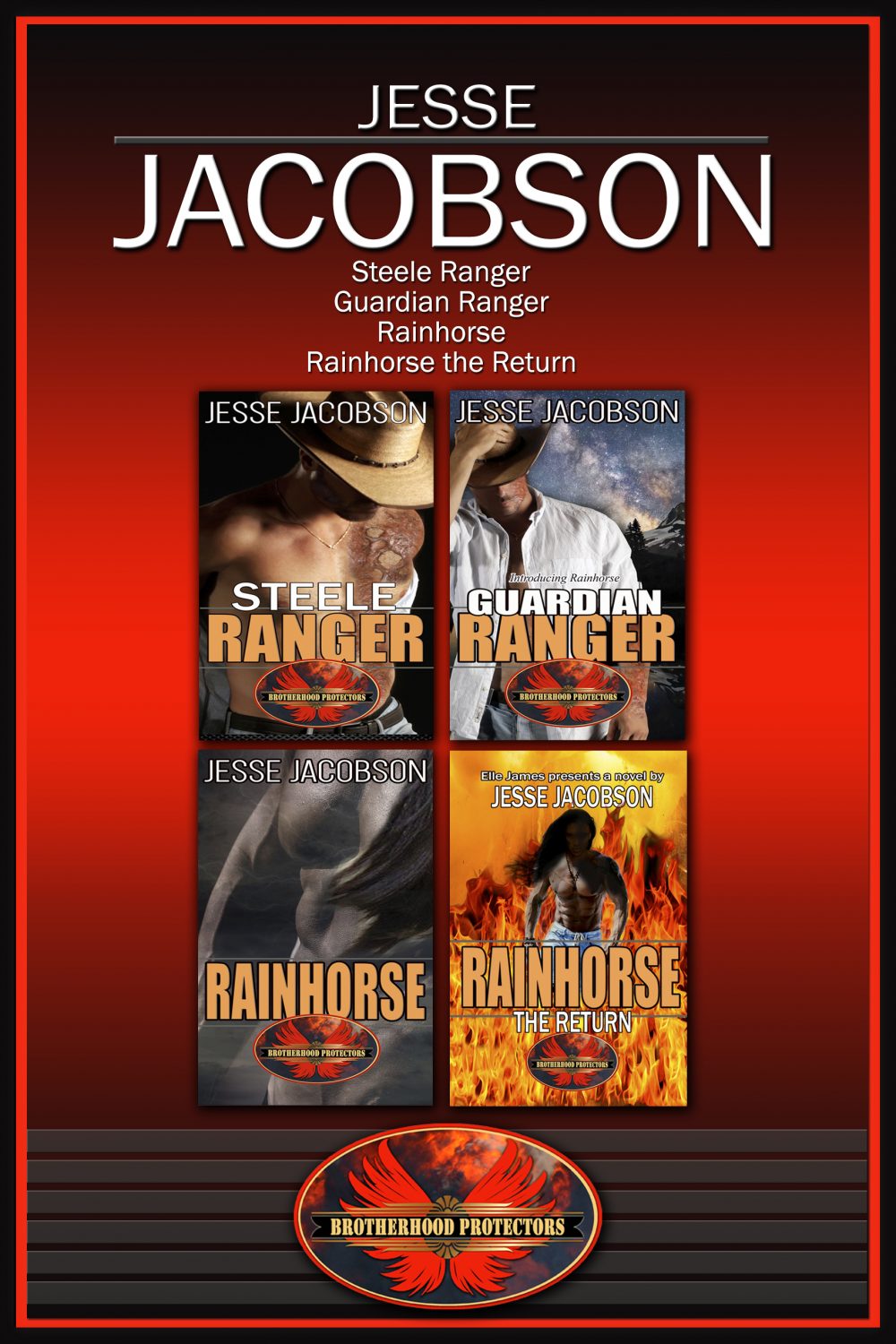 Steele Ranger
Elaine "Vandy" Vanderbilt was on the verge of a nervous breakdown. Her business was under investigation and her marriage on the rocks, and all of it was front-page headline news on every network, cable news channel, blog and radio station. An extended break in a secluded area of Montana had been just the right therapy for her—that is, until four assassins showed up with very bad intentions.
Sam Steele, a retired Ranger who had been badly injured in combat, is assigned by the Brotherhood Protectors to watch over Vandy from a distance without her knowledge. He arrives just in time to foil the attempt on her life, but she is injured and rendered unconscious during the rescue.
With a record-setting snow storm cutting off communication to the outside world, Vandy wakes up in Sam's cabin, cut off from the outside world. She is in pain, confused and disoriented, nearly as afraid of Sam as she is of the assassins.
Sam Steele must nurse Vandy back to health, earn her trust and prepare for the return of the assassins who are looking to finish the job they started.
As Sam and Vandy get to know each other, a bond begins to form and they attempt to solve the ultimate riddle.
Guardian Ranger
Billionaire entrepreneur Elaine Vanderbilt's sixteen-year-old daughter is missing. Her kidnapping was ordered by an unspeakably evil man with powerful resources and a dark, deadly agenda. As ransom details are being worked out, the young girl is held captive by a deranged pedophile, and his partner, one of the world's deadliest assassins.
When the FBI is slow to react, Vandy turns to her lover, former Ranger Sam Steele, one of the elite Brotherhood Protectors, to unravel the mystery and save her daughter's life.
When the kidnapping begins to unravel, the young girl receives help from an unexpected benefactor, and together, they make a break for it. It's now a race against the clock as the kidnappers throw everything they have into finding and killing the girl and the man who betrayed them before Sam Steele can find them.
Rainhorse
John "Jackson" Rainhorse is a full-blooded Cheyenne, former Special Ops Army Ranger and reformed assassin, his life forever changed by a sixteen-year-old girl named Lindsay, who he saved from certain death.
Rainhorse leaves his life as a killer-for-hire and goes deep into hiding. Two years later the former Ranger learns that the daughter of his high school sweetheart, a beautiful teen named Lona, has been kidnapped and is to be sold as a human sex slave by a criminal organization that has been terrorizing an entire reservation.
Rainhorse discovers that the powerful organization has been hooking young adults on drugs and then 'buying' or stealing their children to sell into slavery. The retired assassin vows to end the suffering and save Lona. Along the way, an old flame is rekindled and begins to burn.
Lindsay discovers the whereabouts of Rainhorse and seeks him out, unwittingly throwing herself into the middle of the chaos as the Cheyenne races against the clock to put an end to the tyranny.
Rainhorse The Return
When the FBI obtains information that the nation's most notorious criminal, Barnabas Quince, is planning a deadly terrorist attack on US soil, they turn to John "Jackson" Rainhorse, Quince's former associate, for help. Now serving a fifteen-year prison sentence, the reformed assassin agrees to help and is released into FBI custody.
Realizing that Quince intends to strike quickly, Rainhorse escapes from the FBI and sets out on his own to track his former boss down. Quince discovers that the former Ranger is free and decides to kill the women the Cheyenne loves.
Rainhorse must devise a strategy that will allow him to elude the FBI, save the women he loves and stop Quince, and do it all in just three days. Rainhorse reaches out to Chuck Johnson of the Brotherhood Protectors for help, but will it be enough?