Ranger Trio Box Set: Brotherhood Protectors World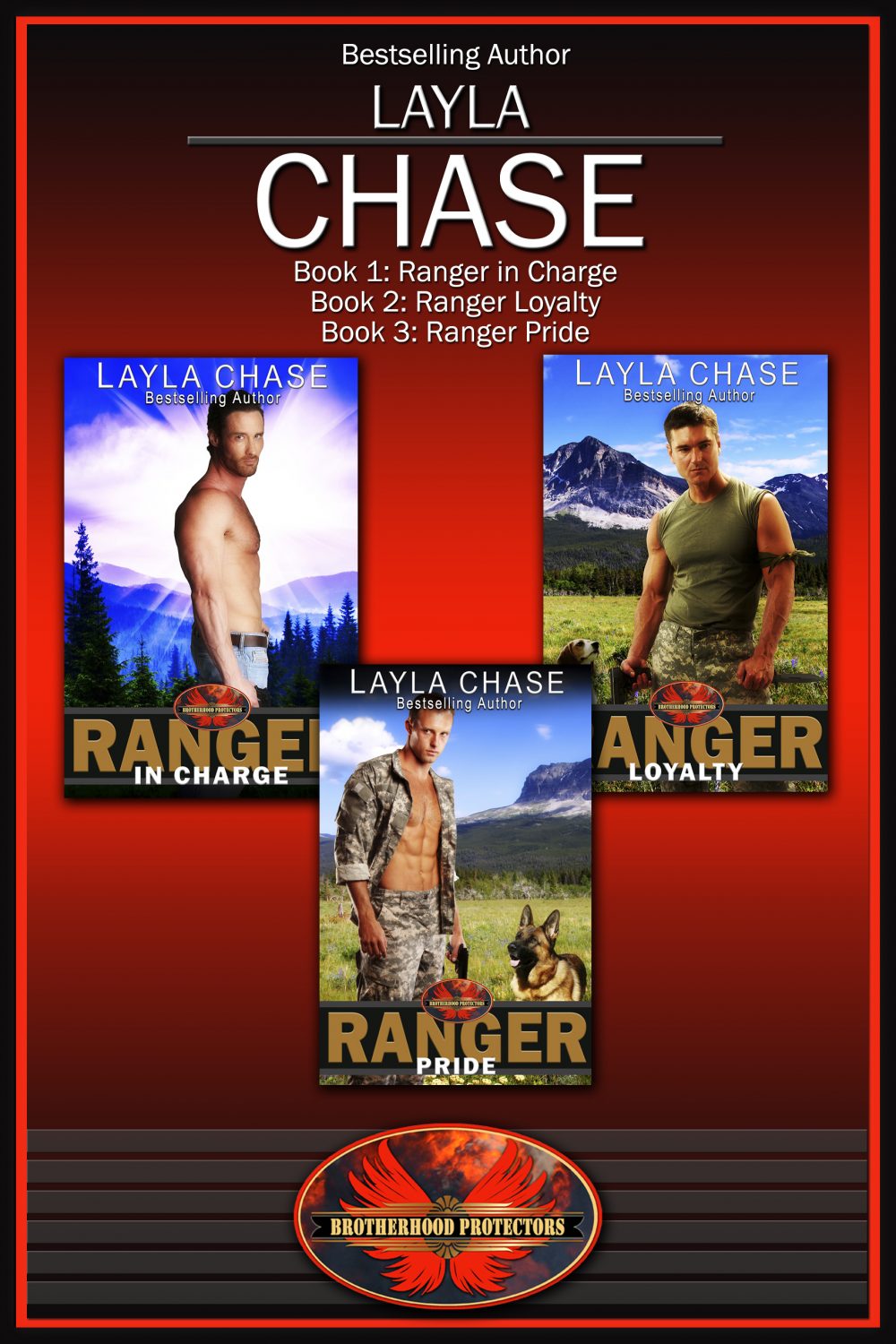 Ranger In Charge
Determined psychologist Caitlyn Auliffe is preparing to give testimony about PTSD suffered in returning soldiers to a Senate sub-committee. As the testimony date approaches, the vague email threats she's been receiving turn serious and personal enough to send her heading for the safety of her cousins' Montana ranch.
Providing distance surveillance on a single female is a cupcake assignment for special reconnaissance expert Rhys "Radar" Morgan. Especially since she has city girl written all over her designer clothes, perfect makeup, and manicured nails. Still new at Brotherhood Protectors, Radar takes his assignment of monitoring the lady 24/7 seriously–meaning he'll be her shadow. Sparks fly, but he's stuck between revealing his role or succumbing to his desire.
To flush out the suspect, Caitlyn is used as bait during a wedding reception. Although the worst happens and she disappears from Rhys' sight, the city girl possesses surprises. What remains unknown is if they can co-exist living a quiet, normal life?
Ranger Loyalty
Co-owner of Dream Vistas Ranch, Malin Langstrom's life changed the day she suffered at the hands of a bank-robbing crew. Remembering the intense man who prepared to help during the robbery often calms her fears. Previously outgoing, she became reclusive and fearful of being in the company of strangers. After a month of therapy sessions, she still has panic attacks over the traumatic incident. On her therapist's recommendation, she investigates getting a therapy dog and is thrilled at the identity of the dog trainer.
To keep others safe during the same bank robbery, experienced dog handler Tag Redmond laid low–a difficult task for an ex-Army Ranger. A month later, he struggles with how he failed to stop the pretty blonde from being abducted. Running into her following a line-up of possible suspects gives him the chance to introduce himself, only to discover someone is following Malin. This time, Tag vows he'll be there to help and convinces Hank Patterson that Malin should be his first assignment for Brotherhood Protectors.
Learning how to handle her new therapy dog means Malin spends days near this mountain of a man with a soft heart for canines. Just when she's emerging from her shell, she discovers her cabin has been broken into, throwing her life into chaos. Determined not to let Malin pull away, Tag enlists her help on a rescue mission of his own. In close proximity on a road trip, they give in to their fierce attraction. When the remaining suspects attempt to silence Malin for good, will Tag thwart the abduction and save the woman who has stolen his heart?
Ranger Pride
Ex-Ranger and military dog handler Beck Gunnar wants nothing more than to get back into action and earn a spot on the Brotherhood Protectors team. After surviving a brutal mortar attack, both dog and handler face limitations caused by their wounds. Beck is in denial about his hearing loss, and King won't follow training to sniff out explosives.
Veterinarian Danae Orestes packed up her Philadelphia life, put her ex-husband behind her, and started a new vet practice in rural Montana. After a life lived around domineering males, she's happy to be on her own. Then a new client, who is built like a Nordic God, walks into her office, sparking an interest that she thought had died.
When she's plagued by threatening calls, Beck is the man Danae turns to…but do he and King have the skills to keep her safe?