Soldier's Heart Part Two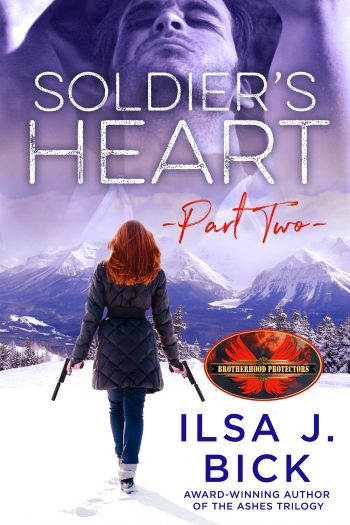 Everyone Has A Secret . . .
When gunfire jolts former Army medic Kate McEvoy from a nightmare of her last, disastrous mission in Afghanistan, she discovers Gabriel Dane, an Army MP she befriended in the Black Wolf Wilderness, has disappeared.  Gabriel is AWOL, depressed, and out of options.  Fearing the worst, Kate sets off in the middle of a freakish, early-season snowstorm to find him—even if this means bringing out Gabriel's corpse.
She's also curious about just how far she can push herself.  A test subject for a top-secret DARPA program, Kate is a prototype, with a rebuilt body and a brain crammed full of nanocircuits and biobots busily rewriting her neural pathways.  Kate knows she's changing in ways her DARPA masters never intended and don't suspect.
And if they catch on to what she's becoming, they'll never let her go. 
And Two Can Keep A Secret . . .
There's gunfire somewhere in the Black Wolf.  For the time being, there's nothing Dr. Sarah Grant or Deputy Hank Cooper can do.  Along with Sarah's dogs, Soldier—a traumatized ex-MWD, who once belonged to Sarah's dead lover—and Daisy, they'll wait out the storm in the Chaney Peak fire station.
Not a terrible prospect.  Sarah never has thought of Hank, who's also Pete's older brother, as anything other than a true friend.  Except she now wonders if Hank might not want more.   Or is it that she does?  Because maybe Hank is right.  Like Soldier, Sarah's obsessed with the past, always looking over her shoulder, using Pete's ghost as a shield.  Maybe time for her to let all that go, and she thinks she'll do just that . . .
Until the moment Sarah happens on photographs she's never seen—and realizes everything she always believed about Pete is a lie Hank's been happy to keep. 
If One Is Dead . . .
Kate is a lone wolf, but she's never alone.  Jack Campbell—or what passes for the man she loved—lives in her mind and at the tail of her eye.  She hears him.  At times, Jack is so there she feels him.  Tastes him.  Wants him.  Created by her enhanced brain, Jack is the ghost in her machine: a phantom whose power only grows . . .
And one which may have plans of its own.